The road traffic information, or VICS information is processed,
edited and transmitted to each car navigation via "Beacons" or "FM multiplex broadcasting".
"FM multiplex broadcasting" provides wide area information,
and "Beacons" send necessary and detailed information about nearest road condition based on the position where the car is moving.
There are two types of "Beacon", one is "Radio wave beacon" on expressways, the other is "Infrared beacon" on ordinary trunk roads.
FM multiplex broadcasting
- FM multiplex broadcasting can provide information about the prefectures you are in, neighboring area and regional borders.

- Multiplexed with audio broadcasting from NHK FM stations, the information is sent in the same frequency band.

- The information is transmitted twice five minute to ensure reception, with the data of 50,000 characters per 2.5 minutes.
e.g. The service area of VICS Tokyo (82.5 MHz)
(Each service area is almost the same with that of NHK-FM. It covers major cities across the country.)
Beacon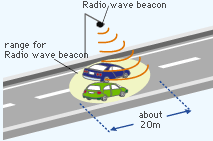 Radio wave beacons
- The radio wave beacon provides information regarding the expressway, covering a total range of about 1,000 km in the direction of travel as well as information on the connectiong roads in the vicinity of interchanges and ordinary roads that run parallel to the expressway.
- The context of information provided by the radio wave beacon primarily contains congestion, link travel times, traffic restrictions and obstructions, as well as SA/PA (service and parking areas), using simplified graphics, images and audio.
- The receiving area for the radio wave beacon is within about 20 meters of the beacon transmitter and the onboard units can acquire information in the direction of travel.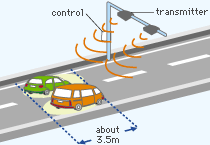 receivable within a range of about 3.5m in near side of beacon
Infrared beacons
- Infrared beacon can provide information about ordinary roads as far as 30 km ahead, and 1 km behind from the car.
- This information tells you the condition on traffic congestion link-travel-time, regulations, parking lot information, interval-travel-time, etc.
- The onboard unit can receive signal in the direction of travel within 3.5 m from each beacon.